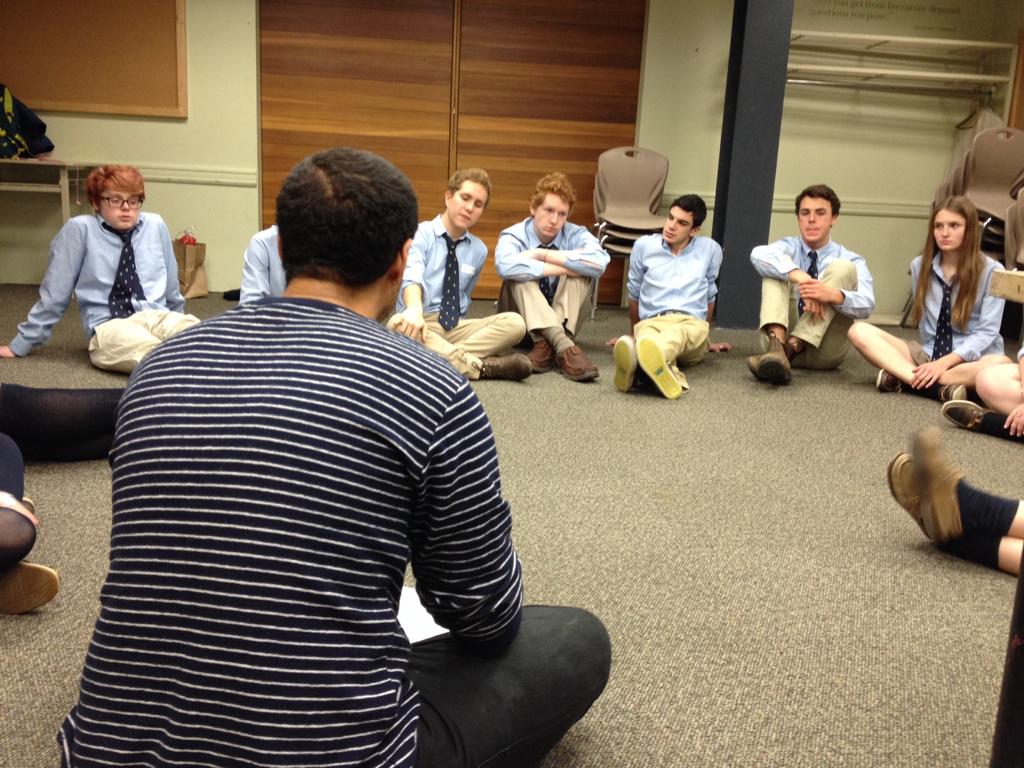 STUDENT MATINEES & POST SHOW Q&AS
Project: Humanity's Student Matinee Program is one of the strongest Independent Theatre experiences for enhanced learning. Whether you are an English, Social Studies, Drama or Music Educator, our Student Matinee Programs were developed with input from The Ontario Institute for Students in Education (OISE) and are adaptable per curriculum requirements.
Project: Humanity's latest documentary theatre piece TOWARDS YOUTH
AS DEMOCRACIES THIN OUT ALL OVER THE WORLD, IS THERE RADICAL HOPE TO BE FOUND IN THE HUMBLE HIGH SCHOOL DRAMA CLASSROOM?
$15/ticket, no minimum booking (subsidies available, ticket booking fees may apply)

2 complimentary chaperone tickets included with every 30 student tickets (bonus)

Post show question and answer with the creative team (bonus)

March 1, 5, 7 at 1pm; March 4 at 12pm at Streetcar Crowsnest (345 Carlaw Street) in Toronto
If you're interested in bringing your students please RSVP as soon as possible by emailing
Lauren Vandervoort at info@projecthumanity.ca
WORKSHOPS
With our workshops we aim to empower students with a personal experience of verbatim theatre. We encourage students to develop awareness and understanding of civic responsibilities within a control environment, engage with immediate issues relating to social justice. In addition, we offer customized Workshops in theatrical production, design, and can include backstage tours; showing students the inner workings of the theatre.
Towards Youth #RadicalHope Workshop
This workshop involves 2 in-school sessions with PH artists, one before and one after your students see the play. In the first session, students will be introduced to PH's signature Verbatim Theatre-making techniques (including insights on interviewing, script development and performing 'other people's words'). Some of the key themes of Towards Youth – democracy, drama, and the power of young people as teachers and leaders – will be explored in this work. Students will gain meaningful insights about ethical storytelling/representation, as well as the power of their own 'real-life' narratives as a way of challenging stereotypes or assumptions. At the end of this session, two 'Class Documentarians' will be elected to conduct an exercise with their peers following their viewing of Towards Youth.
The second session of this workshop involves PH artists coming back into the classroom and co-creating an original piece of verbatim theatre with the 'Class Documentarians' and their peers on themes and questions that matter to them. The exact duration of both in-school workshops can be customized.
Fee: $20/student* total for both sessions (based on 10 students minimum)
Verbatim Essentials
PH does offer a condensed 60-minute version of our Verbatim Theatre Essentials workshop. If you and your class are unable to participate in the more extended Towards Youth workshops, please inquire about this alternative.
Fee: $12/student* for 1 session (10 student min)
Contact info@projecthumanity.ca for more information or bookings. PH is always open to discussing cost in an effort to maximize access to groups.
VOLUNTEER HOURS
As stated in the Ontario Secondary Schools, students Grades 9 to 12, must complete a minimum of 40 hours of community involvement. If you're a student interested in social justice and the fine arts or have questions about volunteering with Project: Humanity get then please in touch with us.
Dan Chapman Smith at info@projecthumanity.ca